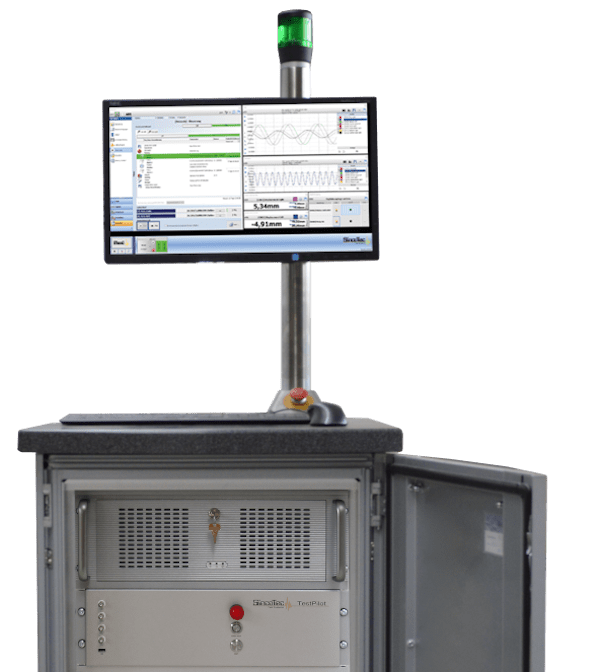 Flexibly and intuitively operable
Control systems & test software for servo-actuator-driven test systems
Our TestPilot control system offers everything that a universal controller needs for standard test assignments and is an essential component of any testing laboratory.
TestPilot combines easy operability, even in the programming of complex test assignments, with almost universal applicability. It is continually further developed based on the feedback of testing experts in our accredited, in-house test laboratories.
TestPilot can be used for servo-electric, servo-hydraulic, and servo pneumatic testing assignments with both single and multi-axial trials and can be operated easily and intuitively using our CoPilot test software. Both can also be applied to the modernization of your older test systems.



Intuitive, efficient, flexible, and always precise – the ideal partner for your testing challenges!
Flexibly usable for the completion of dynamic strength tests
Intuitive user interface
Intelligent control algorithm, even for the non-linear controlled sections
Simultaneous and combined operation of servo-hydraulic, servo pneumatic or electrical actuators as well as rotary actuators on up to 4 axles/actuators
Up to 4 test rigs can be controlled with one controller
Axes of multiaxial test rigs can be synchronized during testing
Simple PC user interface
Extension: frequencies up to 500 Hz using a single axle of TestPilot
Cost-efficient and flexibly usable control system with innovative design
Attractive price
8 measurement and control channels
Up to 8 controllable, calculated channels
High sample and control frequency of 10 kHz per channel
4 axles with a minimum of 2 control channels
Dynamic test frequencies between 0.01 Hz and 500 Hz
16 digital floating inputs and outputs
Front panel with freely selectable signal outputs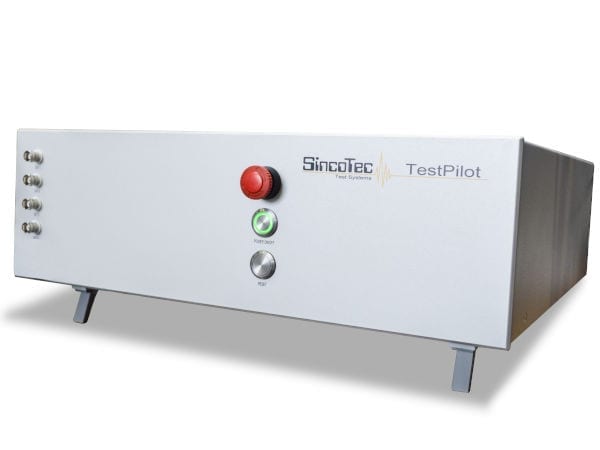 Intuitive test software for TestPilot
Intuitive user interface
Single and synchronized multiaxial operations on a single PC
Operation of multiple control units
Manual steering of the cylinder in displacement and force control
Conduct, monitor, and protocol single-stage oscillation testing
Simple construction of complex and multiaxially synchronized test programs
Extensive data display configurations
Freely configurable data logging
Export measurement data of all channels, cycles, time recordings, trends, etc. as ASCII files for further processing
Use event-oriented controlling from other components
ClimatePilot interface (SincoTec control software for a variety of climatic chambers)
CoPilot is the user interface for the TestPilot control system. Using the software's intuitive interface, single amplitude fatigue tests are programmed. Testing is then monitored, and evaluated in a protocolling report. Programmable parameters include alarm and stop limits with graphic editors, the collection of minimum and maximum data and hystereses, time records of the controlled variables, and other sensors. Additionally, CoPilot offers the following functions:
Free and flexible configurations of test programs (block programs)
Program complex or multi-actuator testing easily with Drag and Drop interface
Multi-level trial management
User-defined standard waves such as sawtooth, sine, rectangular, and triangle, etc.
Wave editor to easily create almost any waveform and to layer different load signals (e. g. sine layered over sine)
Single or synchronized multiaxial use with a single computer
Evaluation software FlightReport
Fast and efficient test evaluation
Fast and efficient test evaluation and reporting
Easy and intuitive user interface (Drag and Drop)
Individual templates
With our evaluation software FlightReport, almost all of the data produced by our CoPilot software can be easily and rapidly visualized and analyzed. This includes the visualization and evaluation of:
Cycles/hysteresis
Dying Seconds
RAW data
Trend
Plugin data
Writer and plotter data
With FlightReport you can also examine the configuration of the controller during testing as well as in historical tests.
You can freely select the data and diagrams used to generate test evaluation reports. For example, diagrams for cycles, trends, or RAW data can be selected and a test report is generated automatically. The preview report can be either printed or exported as a PDF. Special templates can also be created to meet your specifications.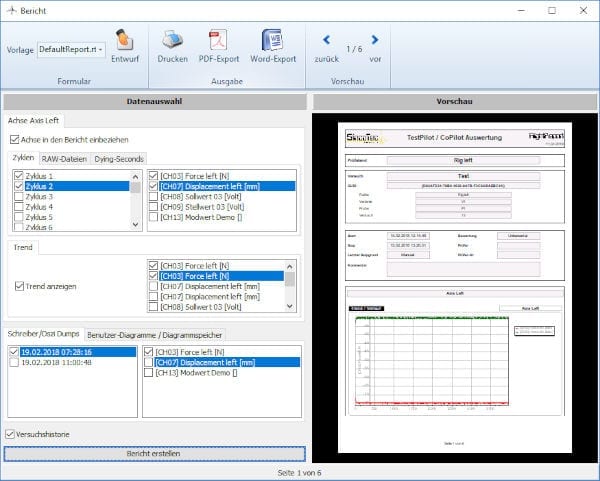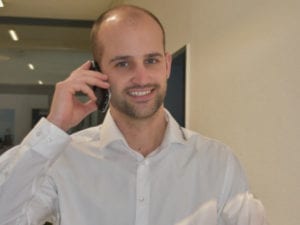 Question about our control units and test software?
Our experts are happy to help you find the right solution for your needs.